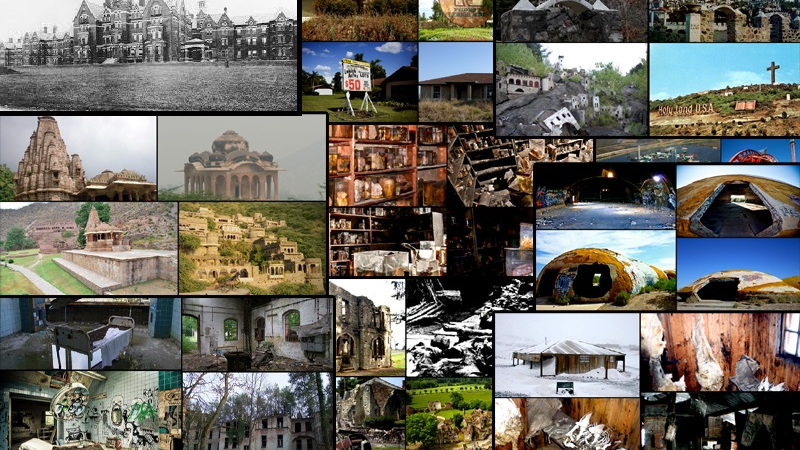 10 Unusual Abandoned Places
Published in Entertainment at February 13th, 2018 at 6:59 AM
---
Beelitz-Heilstätten Military Hospital, Germany.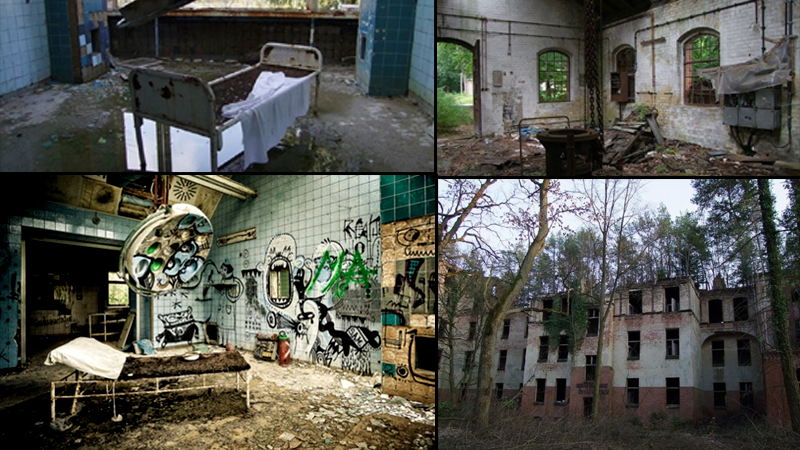 The former TB clinic, turned sanatorium resides in the southwest of Berlin, and was built to deal with an explosion of tuberculosis in the late 1800's, and expanded twice throughout the next several decades. It was put to use as a military hospital during both World Wars -Hitler & Honecker were amongst it's patients- and has no doubt seen its fair share of death, despair, and craziness. The hospital was under the control of the Soviet Union, -well, until that country ceased to exist in the early '90's- and has stood empty ever since.

Following the Soviet withdrawal, there where some attempts made to privatise the complex, but were never entirely successful. Several sections of the hospital remain in operation as a neurological rehabilitation centre, and as a centre for research and care for victims of Parkinson's disease. The remainder of the complex, including the surgery, the psychiatric ward, and a rifle range, was abandoned in 1994. As of 2007, none of the abandoned hospital buildings or the surrounding area were secured, which gives the area the feel of a ghost town. This has made Beelitz-Heilstätten a destination for many urban explorers, tour groups, and curious visitors, as well as being used for movies like The Pianist in 2002, the Rammstein music video 'Mein Herz brennt', Valkyrie in 2008, and A Cure for Wellness in 2016.
---
Bhangarh, India.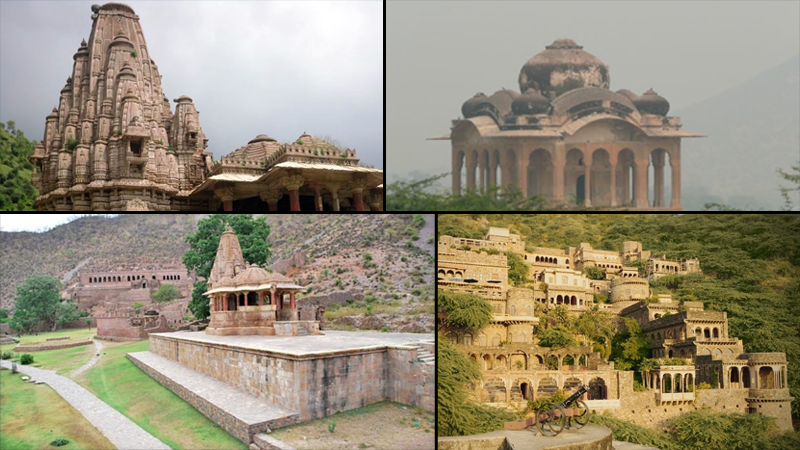 While the abandoned town of Bhangarh in India, has become somewhat of a tourist attraction by day, you'll notice there are no photos of it by night. This is due to a law, that strictly forbids anyone setting foot in the place at night. A signboard posted by ASI (Archaeological Survey of India), which is a Government of India organisation, specifies these laws. Even though government rules state that the Archaeological Survey of India must have an office at every historical site -and this is one- there is no ASI office here. The instructions -though written in Hindi- roughly translate to: "Entering the borders of Bhangarh before sunrise and after sunset is strictly prohibited. Legal action would be taken against anybody who does not follow these instructions".

Tourists are able to visit the site, during the daytime, but grudgingly, as the general attitude of the government seems to be "this is a great place to stay the hell away from." - but why? - Well, legend has it, that during the 16th century, after being rejected by the kingdom's princess, a heartbroken magician cursed the place, and all who lived there, with death, without the possibility of rebirth. Spooky.
---
Discovery Hut, Antarctica.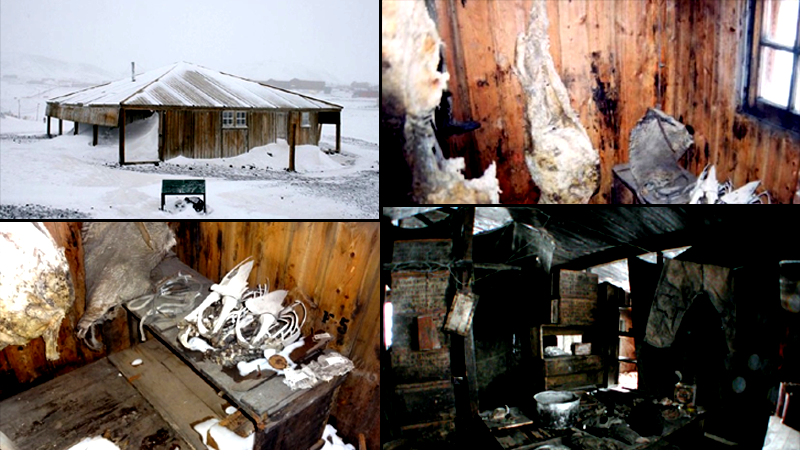 'Discovery Hut', as it is known, is located in Antarctica. It was built in 1902, by the party of explorer Robert Falcon Scott during the Discovery Expedition of 1901 to 1904, which was only the second time anyone had ever tried to explore the region, and the first time in sixty years. The hut remains standing, and looks like it's in pretty good shape for being so old, but that may be because it is pretty much frozen solid.

Inside this incredibly draft prone, little hut that sits in one of the coldest regions on the planet, you'll find nonfunctional equipment, ninety-plus year old stores of seal carcasses, meat and blubber, along with some snow, ice and a touch of despair. The hut has served no real purpose for decades upon decades, and would have no doubt been completely lost to decay and neglect long ago, if it weren't sat in the middle of a deep freeze.
---
The Domes, Arizona.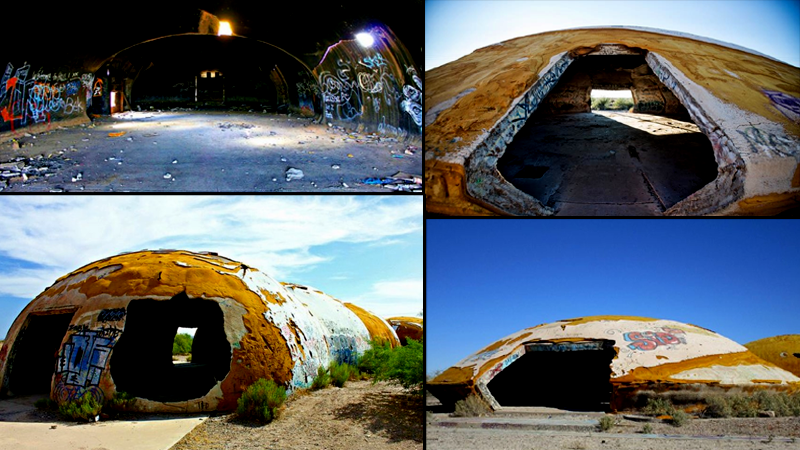 The Weird Abandoned Domes of Casa Grande, Arizona. Some have likened the eerie abandoned buildings, known as 'the Domes', to flying saucer-like UFO houses, retro-futuristic ruins inspired by post-war sci-fi shows, but most don't know who built them, or why they're there. It's been said that, in nearly every small town in America, there seems to be at least one place like The Domes. The kind of place that has no real past, and -probably- not much of a future. The kind of place where teens go to drink beer, get high, or practice their graffiti skills. A dumping ground for the local's trash. Most likely, it's the kind of place your mother may have told you to avoid.

Although 'The Domes' do attract a lot of attention, visitors to the site are known to get extremely uncomfortable around them, perhaps it's the extreme neglect, oddness of the architecture and the "vibe" of the place as the sun goes down, that combine to create a sense of unease. During the 1970's - 1980's, it was understood that 'The Domes' were supposedly built for computer manufacturing, but were never completed. We don't know what the future holds for the mysterious Domes of Casa Grande. Many spooky happenings that have been reported there, with one witness explaining: "once the sun disappeared, the whole scene grew absolutely unsettling. I was there long enough before dusk to determine there was no one else around, but in the dark, the noises I heard were no longer just my own. No one could have arrived at this isolated location without my seeing them drive up in a car, yet there was something definitely moving around me and it didn't sound like a small desert creature"
---
The Danvers State Insane Asylum, Massachusetts.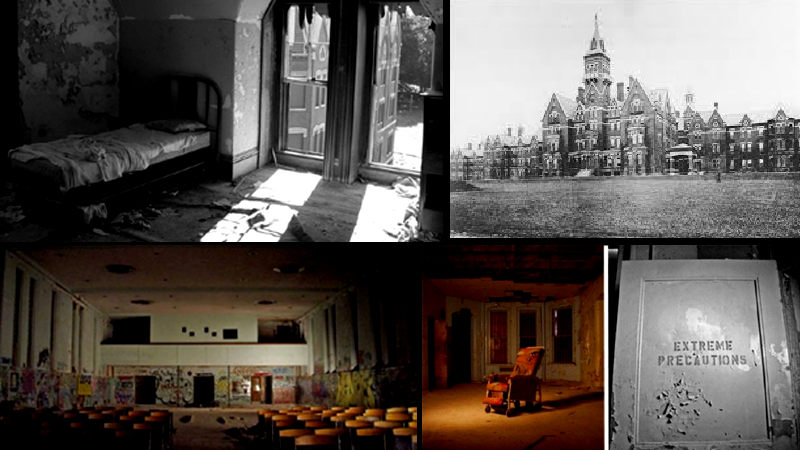 The Danvers State Hospital, Massachusetts, a building also known as: The State Lunatic Hospital at Danvers, The Danvers State Insane Asylum, and The Danvers Lunatic Asylum. Built in 1874 and opening in 1878, its most crowded period was during the 1920's and 30's, when it suffered from severe overcrowding and a lack of funding. The number of patients grew to over 2,000 -In a building that was only supposed to hold 450- while the size of staff remained relatively the same. As a result, the quality of care took a massive hit, as the overwhelmed staff found it hard to control the massive number of patients.

During the harder times, patients were soon subjected to lobotomies, shock therapy and "special garments," -what we assume were straitjackets- as a means of control. During that time there was huge controversy over the use of shock therapy, drugs and frontal lobotomies - in fact, it may have been the birthplace of that procedure. Since its closure in 1992 it has fallen into a state of severe deterioration. The building, though abandoned, was the setting for the excellent 2001 horror film 'Session 9' - which did a great job in generating a truly dreadful atmosphere. In 2006, some structures were demolished and apartment buildings put in their place; in April 2007, all of those buildings and several construction trailers went up in flames. Most recently, on June 27, 2014, it was made public that the Avalon Bay Communities, Inc,. had sold the property for $108.5 M to the DSF Group. - Who released plans for the property to undergo further renovations.
---
Holy Land USA, Connecticut.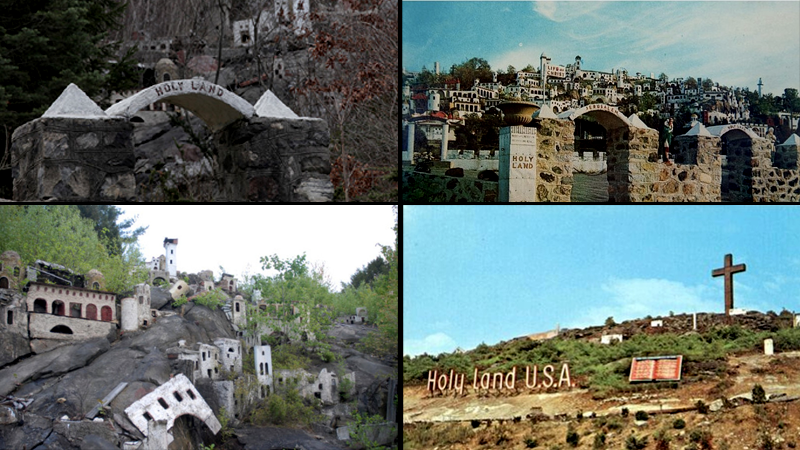 Holy Land - USA. Once an 18 acre theme park in Connecticut, inspired by selected passages from the Bible. It consisted of a chapel, stations of the cross, and various replicas of catacombs and Israelite villages constructed from cinder blocks, bathtubs, and other materials. It may not sound like incredible amounts of fun, but at its peak in the 1960's and 70's it would received upwards of 40,000 visitors per year.

It's owner, John Greco, decided to close Holy Land USA in 1984, with plans to renovate the site, but unfortunately died in 1986, with the work left unfinished, nobody has been sure what to do with it since. In July 2010, the rape and murder of a 16-year-old girl inside the site received widespread media coverage and -weirdly- generated renewed interest in the unused property and its future use, It was also reported that trespassing had reduced in the years before the murder.

On September 14, 2014, the site officially reopened to the public for the first time in 30 years with an inaugural mass and access to the grounds.
---
Suburbs Of Lehigh Acres, Florida.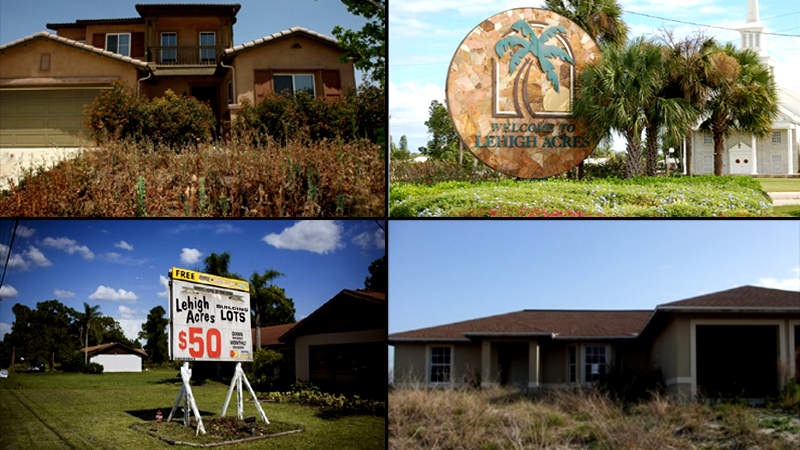 The Story of Lehigh Acres, Florda - is sad and uniquely American. During the 1950's, Businessmen divided up a huge stretch of land in southern Florida, into tiny half-acre parcels that they sold to Northerners for low, low prices. With a $10 down payment, and low monthly fee, it seemed like a steal. However, what wasn't noted in the sale, is that there was no infrastructure in place - no schools, no roads, and no running water - on top of that, very few houses were actually built.

When the real estate bubble popped, the suburbs of Lehigh Acres became a veritable ghost town.
---
Oradour, France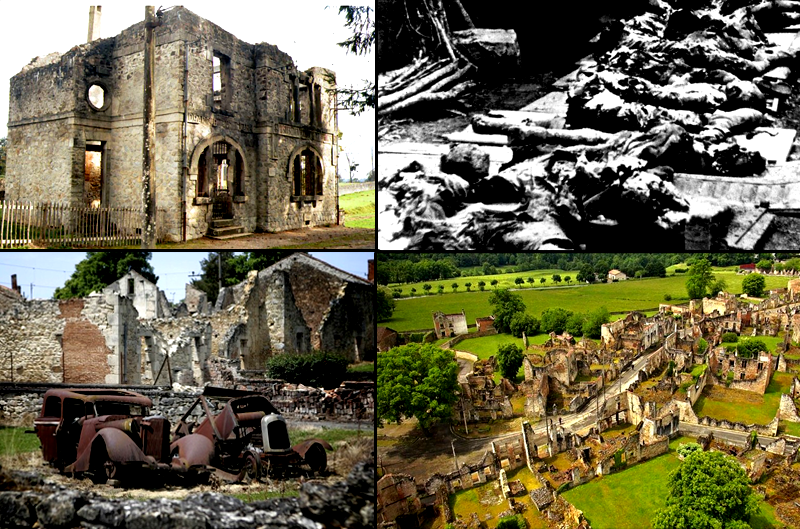 In France, there lies the original village of Oradour. On June 10th, 1944, the village had the extreme misfortune of being confused with a nearby village by a Nazi Panzer unit, who where lead to believe that a Waffen SS officer was being held by the villagers there. Once the Nazis arrived, they massacred the site with incendiary devices and machine gun fire, they had killed 642 men, women and children before the mistake was cleared up, which was pretty much the entire population of the town, including a few unfortunate people who happened to be passing through at the time.

When the war ended, General Charles de Gaulle decided the village should never be rebuilt, instead, it would remain a memorial to the cruelty of the Nazi occupation. The only modern addition to this town is a plaque, roughly translating to "so as not to forget" - What happened here was horrific, and we honestly don't think we ever want to come within a hundred miles of this place.
---
Six Flags, New Orleans.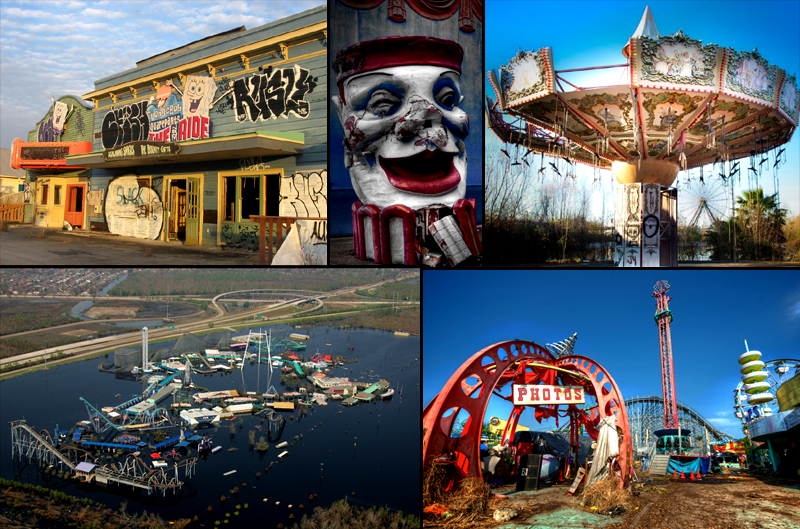 The New Orleans amusement park - originally named 'Jazzland' - opened in 2000, but the lease was purchased by Six Flags in 2002, though not changing it's name until 2003. The park was upgraded that year - along with a name change to 'Six Flags, New Orleans' - Including Mardi Gras and DC Comic's themed areas, plus a respectable collection of rides and coasters. They also planned to construct a water-park in early 2005, and was to be announced later in the year.

Sadly, in 2005, Hurricane Katrina struck New Orleans, which put all of their plans for the site on major hiatus. To make a long story short, the wreck of this once merry place has sat deserted since Katrina struck. It is now owned by the city with tentative plans to either, rebuild the park, or put a mall in its place. But if you're willing to risk a possible arrest for trespassing, it can serve as a creepy urban exploration outing.
---
Anderlecht Vet School, Brussels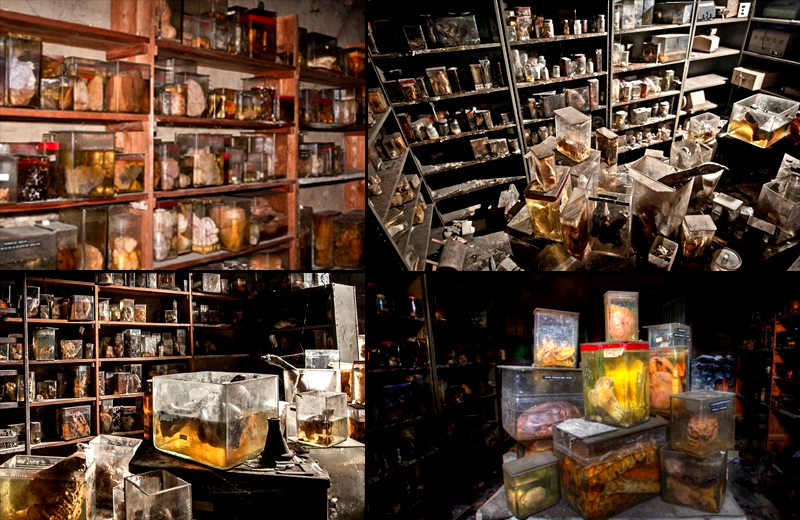 This is the last remaining, none renovated building out of nineteen, that used to make up a veterinary complex in Anderlecht, Brussels, it has stood deserted since the 90's. We're unsure as to why it remains un-renovated, but it's possible that people are just too terrified to even go near this place. It's deserted, crumbling halls lead to rooms that are full of horrifying things, each room worse than the last. Old, hand-blown bottles of strange unknown fluids, syringes and other old, rusty medical equipment are still lying around, and that's just the beginning.

The main attractions to this place, are the animal heads, brains and assorted parts stuffed into jars throughout the building, which has come to be aptly named as "The Horror Labs." Some body parts and organs are still recognisable, but most are not. Some are just simply jammed together into larger jars, or sewn together, we're unsure if we want to know why? it's one of those places where people are initially horrified that this sort of place exists, but are equally intrigued and want to see more. But as strange as this place seems, it did originally serve a crucial purpose, a school dedicated for the training of veterinary surgeons. Weird.